VITRIUM
Your new favourite room, a place full of warmth and comfort.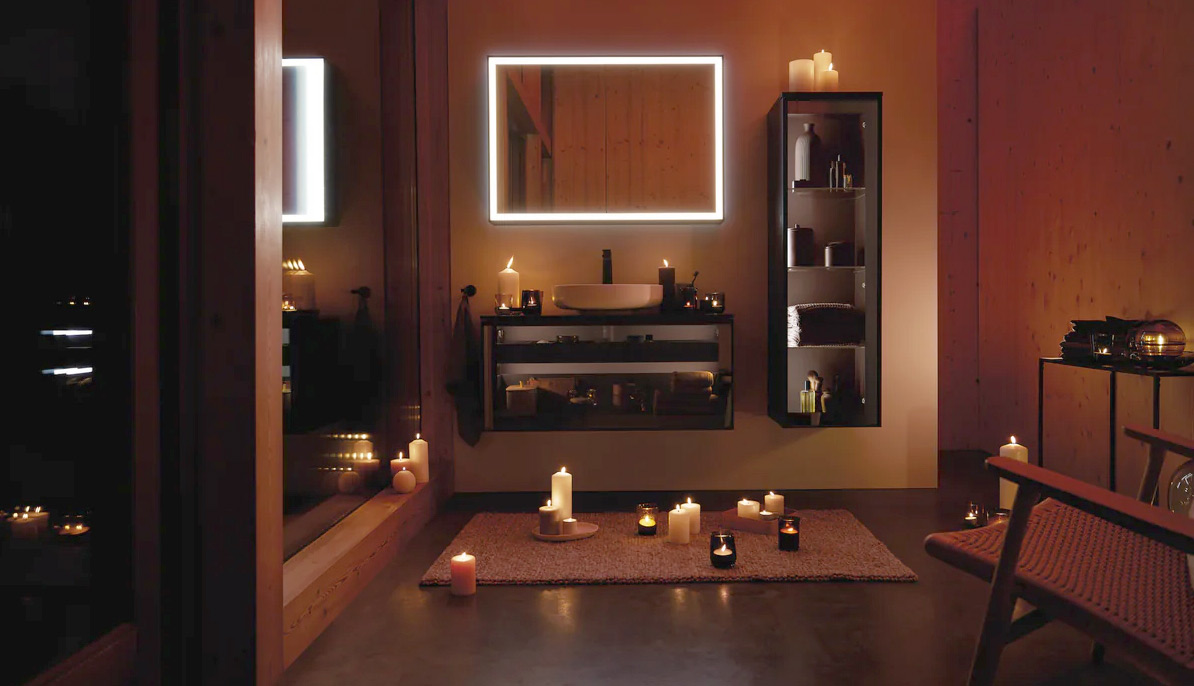 Designed by Christian Werner, Vitrium expresses a modern and timeless design language and offers a sense of security in the smallest of spaces.
Whether as a round countertop washbasin or the integrated c-bonded version, the circular washbasins placed on the Vitrium linear bathroom furniture form a tranquil symbiosis with their front overhang. The sophisticated design is made possible by the DuroCast UltraResist mineral casting process.
In addition to its extremely elegant appearance thanks to its velvety matt surface, the mineral composite developed by Duravit enables a precise design language and creates an extraordinary tactile experience in the process. The washbasins are available with or without a tap base and are supplied with a drain valve and without overflow.
The geometric bathroom furniture offers a minimalist and elegant look thanks to the slim metal frame in white and anthracite. The combination with the fronts, optionally made of semi-transparent backlit PARSOL glass or various decors in plain colours or with a wood look, creates a natural-looking ensemble that radiates comfort.
The smoked glass fronts make the furniture appear light and at the same time act as a showcase for special products for everyday use.
The front and edge surfaces are water-repellent and the edges are bonded with waterproofing to make them easy to clean and to ensure long-lasting quality. An unpretentious support bar integrated into the metal frame completes the minimalist furniture.
The worktop furniture is combined with the round washbasin. A striking design feature of the series is the limited depth of the units with protruding washbasin tops – ideal for compact bathrooms.
Each vanity unit is optionally available with interior lighting. The additional interior drawer for small items and the optional interior dividers underline the perfect space management.
The Vitrium furniture range also includes matching medium-sized cabinets in different sizes. The models are equipped with pivot doors and glass shelves. They are also optionally available with interior lighting.
The mirrors of the Vitrium series are available in round or square shapes, and the Vitrium mirrored furniture is available in a built-in version. The models use the same design language and therefore perfectly complement the Vitrium bathroom furniture. Each model is equipped with LED lighting and sensor switches.
The models are also available with a sensor and control unit, which can be used to control the interior lighting of glass-fronted vanity units and medium-sized cabinets. This lighting works via Bluetooth, ensuring synchronised light control where everything is switched on with a single click. No additional cables or switches are required.
Visit us at
For a perfectly coordinated bathroom, down to the last detail, ask or make an appointment with our Bathroom consultants for information on the different finishes, colours and accessories to enhance the design of this unique collection.