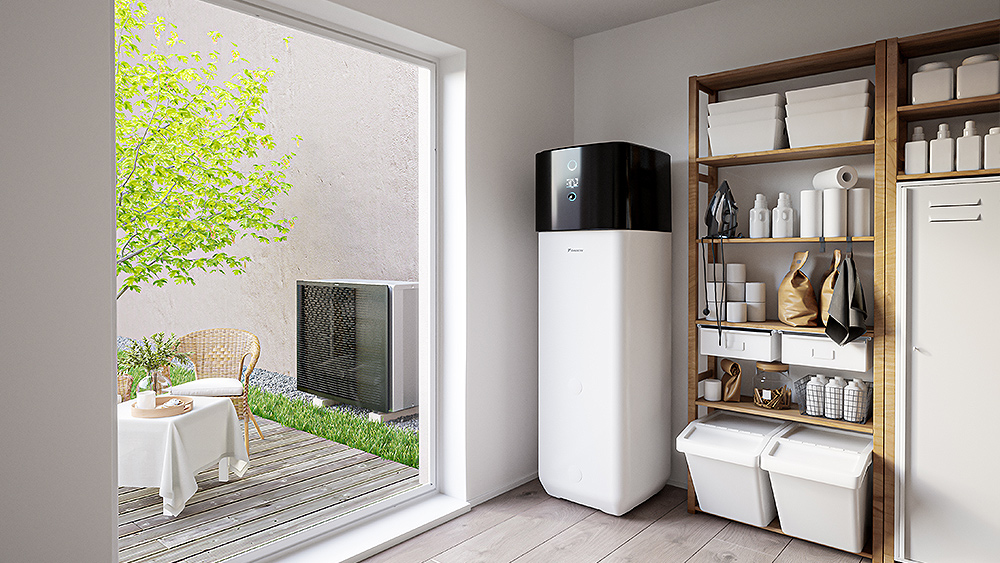 Sustainable construction, energy efficiency

We at DURAN, are committed to offering our customers products that are more and more efficient, and which guarantee medium and longterm savings. DURAN has been incorporating photovoltaic panels systems since 2015, enabling us to produce 400 MWh in six years, preventing 279 TN of CO2.
Our DURAN-friendly brand encompasses all the suppliers, products and novelties related to energy efficiency and sustainable construction.
Sustainable construction: we offer ultra-thin insulation, perfect for renovation, as well as natural insulation products that ensure thermal and acoustic comfort, all of them long-lasting and respectful of the environment.
We also offer SATE (exterior thermal insulation) systems which enable thermal insulation of a building or home, delivering savings of up to 30% on energy bills.
Heating and cooling: efficient heating systems such as low-temperature radiators which use very little water. Or aerothermics for cooling or heating.
Water treatment: one of the challenges we face in a home where we have invested in sophisticated materials and equipment is how to protect it all from the hardness or impurities of the mains water supply. We can advise you on the purification and descaling equipment and treatment system that fits in best with your needs.
At DURAN, you will find everything you may need to build or renovate functional spaces under one roof. Our showrooms in Palma de Mallorca, Calviá, Alcudia und Santanyí offer a wide selection of flooring and wall tiles (Onix, Natucer, Bisazza, Tau Cerámica), modern bathrooms (Duravit, Villeroy & Boch, Jacob Delafon), kitchens (Dica, Neff, Bora, Gaggenau), made-to-measure wardrobes (Caccaro, Novamobili) and brands specialising in sustainable construction such as Actis, Chova, Jaga, Daikin, Airzone, Schlüter Systems, Honeywell, Ath, Cilit and Grünbeck.  Furthermore, our Calviá showroom also includes interior furniture (Casadesús, Novamobili, Ondarreta) and decoration (Orac Decor), wallpaper (Elitis, London Art), carpets (Lamadrid, Casamance) and lighting (Flos, Vibia).
Our team of professionals, composed of interior designers, architects and specialised technicians, will guide and assist you through every step of the construction or remodelling process. Their aim is to offer a personalised experience, responding to all the elements necessary for an energetically sustainable and efficient home.
Each piece has a story, a quality of craftsmanship and a need for innovation. This is why we only work with brands and manufacturers that offer the latest novelties and trends. Their series and models, as well as their textures and shapes, seek to find a balance between novelty and functionality, to create sensory experimentation spaces where harmony is key.
DURAN offers a selection of the latest trends in heating and air conditioning, such as low temperature radiators that use extraordinarily little water or aerothermics, as well as photovoltaic energy systems. Our assembly teams install and monitor every step of the process to ensure their quality and efficiency. We also provide water treatment systems with sophisticated materials and equipment, protecting your home from water hardness and impurities.
Come and visit any of our DURAN centres in Mallorca, where you can personally discover the quality of our materials and products, displayed in vast exhibit areas and showrooms where each department has its own space.
DURAN-friendly includes all our suppliers, innovations and products related to sustainable construction, efficient heating and air conditioning, as well as water treatment. We provide all the necessary materials for an energy efficient and sustainable home: elements such as thermal and acoustic insulation, efficient heating and air conditioning, photovoltaic energy and water treatment.
DURAN believes in sustainable construction, which is why we are proud to offer eco-friendly products such as ultra-thin insulation, perfect for remodelling, and natural insulation to ensure thermal and acoustic comfort. Another of the products we place emphasis on sustainable construction are our 100% mineral, ecological and recyclable cellular concrete blocks. They are a highly efficient option for thermal and acoustic insulation, and save energy at the same time.
Furthermore, we offer ecological and efficient heating systems such as low-temperature, aerothermal or biomass radiators, which run on natural fuel.
In the energy department, we work with photovoltaic energy and offer turnkey solutions that include consultancy, administrative procedures for legalisation and start-up, installation and subsequent monitoring.
Our philosophy has always included working with the sector's leading international brands and manufacturers, as well as with efficient materials and systems that ensure sustainable and quality constructions. Therefore, we offer a wide selection of sustainable insulation products and materials (Actis, Chova), low temperature radiators (Jaga), heat pumps and boilers (Ariston, Daikin, Ferroli, Panasonic), underfloor heating (Schlüter Systems), regulation systems (Airzone, Honeywell), and water treatment (Ath, Cilit, Grünbeck), among others.