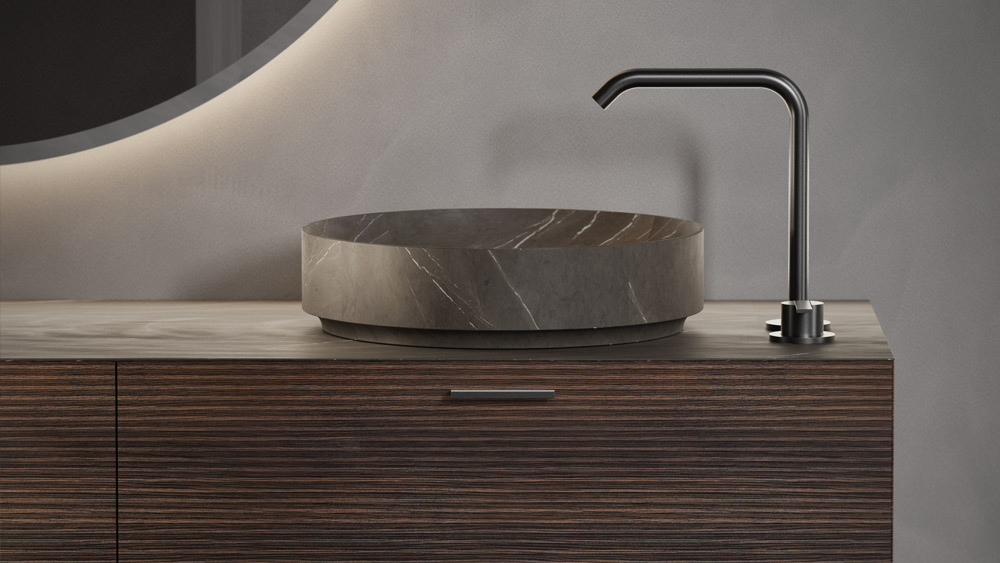 Everything for your bathroom

The bathroom is one of the most important spaces in the home. We spend some of our most intimate moments looking into the mirror, in the bath or in the shower – moments conducive to relaxation, inner dialogue and unwinding from daily routine.
The big international manufacturers DURAN works with (Agape, Duravit, Inbani, Kaldewei, Dornbracht, Novellini, Inda, Alape, Axor, Gessi, Grohe and Geberit, among others) understand the importance of the bathroom within the home, bestowing on it a distinct personality of its own with a strong element of design and sophistication, always at the service of hygiene.
Taps with hi-tec sensors, smart toilet systems, mod- ern wash seats with intuitive functions, modern tones and colours with character, like new blacks, pieces of furniture that are veritable artworks, floor-level shower trays, shower doors with minimal frames and freestanding tubs to enjoy the most special of bath- times. We make all of this available to you at DURAN, to make your bathroom a place where you can feel completely at peace.
DURAN offers all the construction materials and features necessary to remodel your home or bathroom: flooring and wall cladding, bathroom ceramics, bathtubs and shower trays, screens, hydromassage and spa, as well as bathroom furniture and taps, always working with the most prestigious international brands and manufacturers.
The current trends in bathrooms have moved from minimalism and straight lines to softer colours and shapes, leaning more towards cutting-edge design based on high technology applied to bathroom spaces.  Toilets have taken great strides in recent times, for example with the integration of the Rimless system, which facilitates hygiene, cleanliness and water saving, or the antibacterial enamel system, which is particularly appreciated at the present time. Toilets merge with bidets, offering users washing with warm water and drying, all much more hygienic. Added to this fusion is a light, a heated, automatic-opening seat and an odour extraction system.
The components of the contactless bathroom are extremely fashionable in public and semi-public spaces, both in terms of taps and dispensers, urinals and hand driers.
Our philosophy, based on an enterprising and service vocation, is focused on providing comprehensive solutions for both construction and decorating professionals. Thus, we offer our customers comprehensive transport, assembly and logistics services with the highest quality guarantee, as well as installing special and made-to-measure bathroom furniture, lighting, shelving, wardrobes, mouldings and wallpaper.
At DURAN, we believe in the importance of providing unique and personalised advice for our customers. Therefore, our showrooms in Palma de Mallorca, Calviá, Alcudia and Santanyí are spaces where we created examples of balance between technicality and simplicity, between elegance and innovation, to bring together all the possibilities and needs that you may encounter during the process of designing your home.
Do not hesitate to visit our vast flooring and wall tile exhibit (Casa Dolce Casa, Casa Mood, Zyx), with modern bathrooms (Jacob Delafon, Villeroy & Boch, Tresse), kitchens (Copatlife, Neolith, Gaggenau, Bora) and made-to-measure wardrobes (Caccaro, Novamobili). At our showroom in Calviá, you will also find a personalised interior design service with an exclusive selection of indoor and outdoor furniture (Andreu World, Ondarreta, Casadesús), decoration (Orac Decor), carpets and fabrics (Casamance, Lamadrid, Les Creations), wallpaper (Arte, Elitis, London Art) and lighting (Flos, Secto Design, Vibia).
Visit us and experience the qualities and textures that will turn your home into an utterly unique space.
At DURAN, we strive to always be up to date with the latest innovations and trends in construction and renovation, analysing their impact and relevance for our customers' projects. Constantly searching for innovation and efficiency, we offer everything you need for your bathroom renovation: bathroom ceramics (Duravit, Jacob Delafon, Villeroy & Boch), shower trays, bathtubs (Agape, Inbani, Kaldewei) and hydromassage and spa (Duravit, Tresse, Jacob Delafon), as well as made-to-measure bathroom furniture (Agape, Inbani), screens (Novellini) and taps (Axor, Dornbracht, Gessi, Hansgrohe).
In the point of fact current tendencies tell us that the bathroom has moved on from minimalism, straight lines and very neutral colours, to a more colourful décor, with gentler shapes and a busier design, incorporating stone countertops and more natural forms. Traditional chrome taps now share pride of place with matt black and matt or brushed metal finishes (nickel, brass, copper), with accessories to match in the same colour. And the same is true of bathroom fittings, where the omnipresent white gives way to other colours such as matt white, graphite, black and earth tones.
If you want to know more, do not miss our selection of the latest trends in modern and efficient design, where we suggest some of the most versatile and creative combinations for building and renovating your own space.