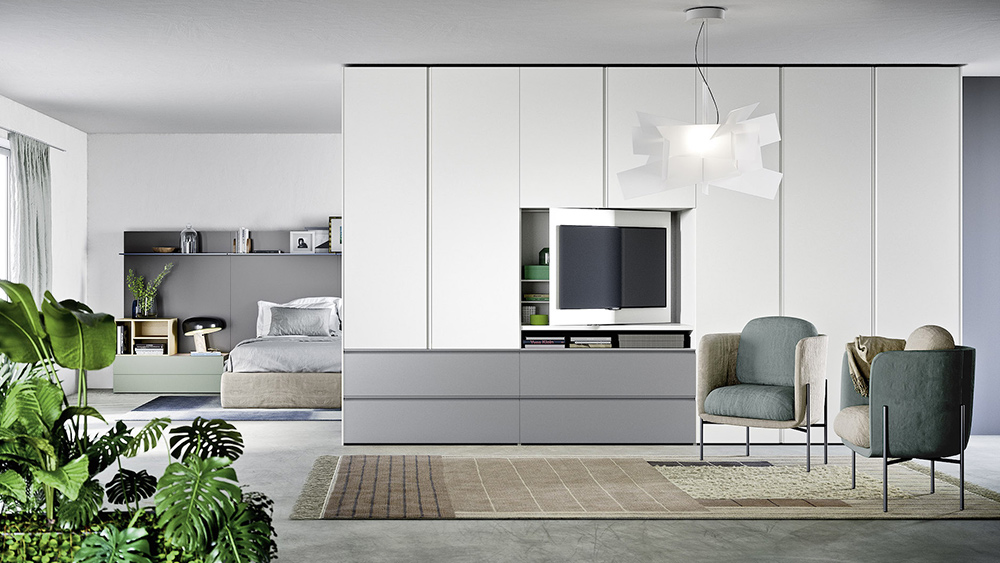 Everything wardrobes and dressing

A passion for suggesting new home life concepts, pro- posing elegant, creative solutions, is the common denominator shared by brands such as Novamobili, Caccaro, Dica or SanGiacomo when designing their wardrobes and closets.
Beautiful, functional creations in different materials, with great modular capacity to include different accessories depending on the space allocated, whether in the bedroom or any other room in the home.
DURAN offers all the construction materials and elements to remodel your home under the same roof: made-to-measure wardrobes and dressing rooms, wardrobes with sliding doors, wardrobe interiors, and anything else you may need. Our wardrobes and dressing rooms are truly functional and versatile, they are customizable to adapt to our customers' spaces and needs (different modules, sizes, materials and finishes).
The service values that make up our philosophy are aimed at providing comprehensive solutions for construction professionals and individual customers. Therefore, we offer comprehensive transport, assembly and logistic services that guarantee the highest quality placement of made-to-measure kitchens, special bathroom furniture, wardrobes, dressing rooms, mouldings, wallpaper, lighting, and much more.
We at DURAN believe that it is essential to provide specific and personalised advice for our customers. Therefore, our showrooms in Palma de Mallorca, Calviá, Alcudia and Santanyí are examples of balance between technicality, innovation and simplicity. Under the same roof, you will find all the options imaginable to personally choose the best materials for your home.
The different ambiences of the DURAN showrooms are designed to make the relationship between professionals and customers flow in a way that is both pleasant and creative, something that is doubtless revealed in the final result of each project.  Visit any of our shops and discover all the novelties and trends in construction, refurbishment and renovation, with the aid of experienced professionals.
For DURAN, it is essential to always be up to date with the latest novelties and trends in construction and refurbishment. Furthermore, we study their impact on our customers' projects. Always on the lookout for innovation and efficiency, we offer everything you may need to remodel and refurbish your home: flooring and wall coverings (Bisazza, Marazzi, Mutina, Onix, Tau Cerámica), modern bathrooms (Duravit, Agape, Inbani, Kaldewei, Axor, Tresse), kitchens (Copatlife, Dica, Bora, Neff, Dekton), made-to-measure wardrobes (Caccaro, Novamobili), indoor and outdoor furniture (Andreu World, Expormim, Novamobili, Ondarreta), decoration (Orac Decor), carpets and fabrics (Casamance, Lamadrid, Les Creations), wallpaper (Arte, Elitis, London Art) and lighting (Flos, Secto Design, Vibia).
If you wish to know more, you can discover our selection of the latest innovations in modern and efficient design, examples of some of the most versatile and creative combinations for constructing, remodelling and refurbishing your own space.