P R I V A T E   C O L L E C T I O N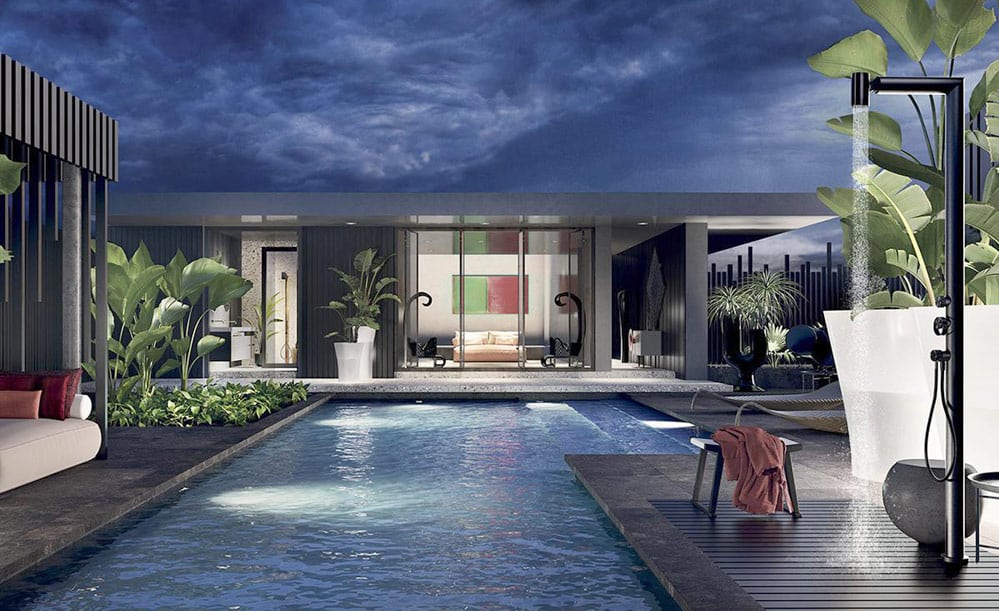 A shower in the open air, in the sun or under the stars, gives us a special feeling of freedom and regenerating freshness in the company of nature.
Gessi's experience in the creation of a state-of-the-art shower system enhances these emotions through technology, thus turning the shower into an object of Outdoor Wellness design in a private or resort environment.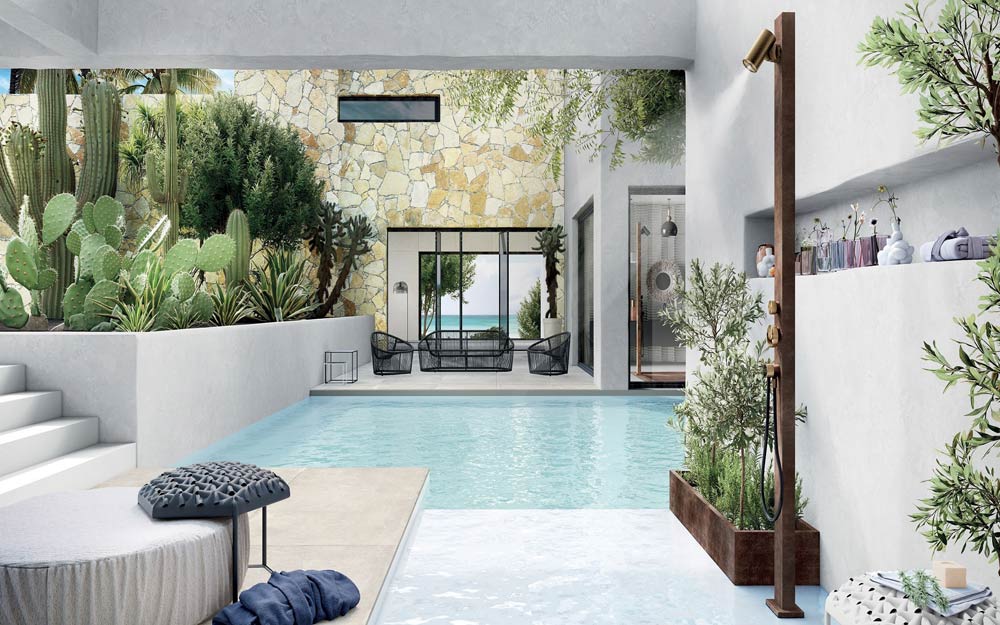 The exclusive Private Wellness Outdoor collection by Gessi has two design lines (G01 and G02), both manufactured in 316 stainless steel with different shades of finishes in its shower columns: Shiny stainless steel, brushed stainless steel, matt black, bronze oxide… and differentiated by their shape, the G01 line is tubular in shape and the G02 line is rectangular in shape.
The two versions can be combined with different models of adjustable spray heads (Spotwater) and handles designed with carefully sculpted patterns based on special effects (Cesello, Flessa, Intreccio, Meccanica, Trame)..
All sprayer models offer different types of outlets with therapeutic solutions: Multispray, lotus rain, mist and waterfall. Now, with the new Outdoor L Series, you have the possibility to install the Spotwater L shower head models, special for a shower with Chromotherapy to enjoy a whole experience in the shower space..
– E X T R E M E   P U R I T Y –

The G01 line of the Outdoor Wellness programme includes a series of fully customisable solutions, with many details and coordinated elements. The Gessi Outdoor Wellness collection is a new way of conceiving "Outdoor Design".
The contrast between black and bronze for an ultra-modern design, combining aesthetics and functionality. A play of contrasts between light and shade that does not forget the main mission, which is to offer a stylish object capable of responding to the needs of responsible wellbeing. The different finishes of the structure and the shower head, such as the Cesello version, can be combined in a fascinating mix and match game, allowing you to make your shower a statement of your personality.
– F U N C T I O N A L   S C U L P T U R E –

In an outdoor environment inspired by Mediterranean flavours, with natural stones, breathtaking views and numerous natural elements, G02 is the right choice to further enhance your outdoor shower experience. Designed for outdoor environments but also easily adaptable to indoor settings, the G02 line seems to emerge naturally from between the ground and the rocks, offering an example of sustainable and striking design. With a bold rectangular profile, G02 has a minimalist design with a strong expressive force.
S P R I N K L E R   M O D E L S
T Y P E S   O F   W A T E R   J E T S
F I N I S H E D   C O L O U R S
For more information about the new finishes and the different combinations of shower column, shower accessories and mechanisms with Spotwater, please visit us and ask our showroom advisors.
For projects and information about new products in ceramics, bathrooms, dressing rooms and kitchens, we recommend you to make an appointment with our advisors..